Volkswagen College Grad Program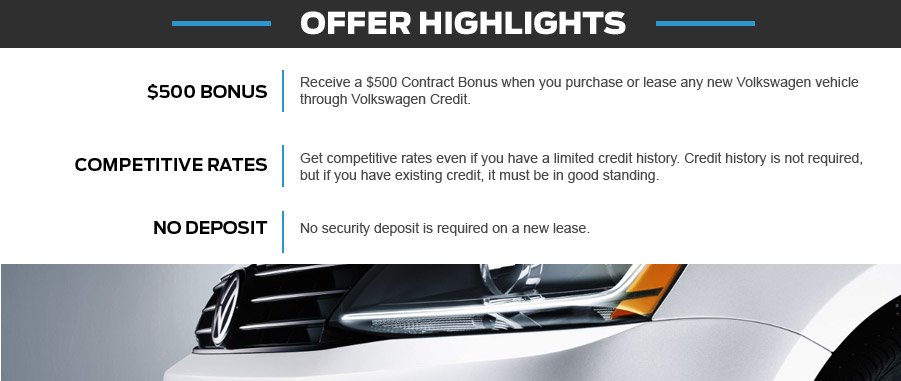 Recent College Grads Can Save On a New Volkswagen in San Antonio, TX

The day you've been eagerly anticipating for years has finally come and gone. You're a new college graduate, ready to enter the working force.. Now you're on to the next big thing: a job. On behalf of everyone at our
Volkswagen dealership in San Antonio, TX
, we couldn't be prouder! Graduating from college is no simple feat, and we recognize the meaning behind this huge accomplishment. As our way of saying congratulations, we want to offer you a special gift. You'll need a new car to get to and from your brand-new job, and we can help you buy one with exclusive savings. If you have proof of your graduation date, we can offer you a $500 Contract Bonus when you buy or lease through Volkswagen Credit. Even if you weren't a finance major, it's easy to see how quick those savings will add up!

In addition to this special offer, North Park Volkswagen can offer recent college graduates competitive financing rates when they buy or lease through Volkswagen Credit. Plus, there's no need to pay a security deposit if you do choose to lease. We understand that you might not have the money just yet, so we want to help you get off on the right foot. Learn more about how we can help you save on your first car purchase with the Volkswagen College Graduate Program!

How Do I Save with the Volkswagen College Graduate Program?
In order to qualify, you must be employed full time, or have a written commitment from a future employer.
If you graduated within the last 24 months from an accredited U.S. or Canadian university or college, or you're planning on graduating within the next six months, you could be eligible.
You must be a permanent resident of the United States or a citizen in order to participate.
What Should I Bring to North Park Volkswagen?


A valid, up-to-date driver's license.

Current, valid car insurance and contact information for your insurance agent.

Proof of your current income and full-time employment status, and contact information for your human resources or payroll representative.

The names of two personal references, as well as their addresses and phone numbers.

A copy of your degree or transcript.

Information for the best way to contact your college or university.

Qualified Universities and Colleges near our San Antonio Volkswagen Dealership: