Ask a Volkswagen
Finance Expert:
Car-Buying Q&A
At our San Antonio Volkswagen dealer, we're here to help answer any questions you may have about the car-buying process. Whether you're curious about down payments or trade-ins, our knowledgeable VW finance team is here to guide you through every step of the car buying journey. Read on to see what our experts have to say about some of the most frequently asked questions our team hears daily.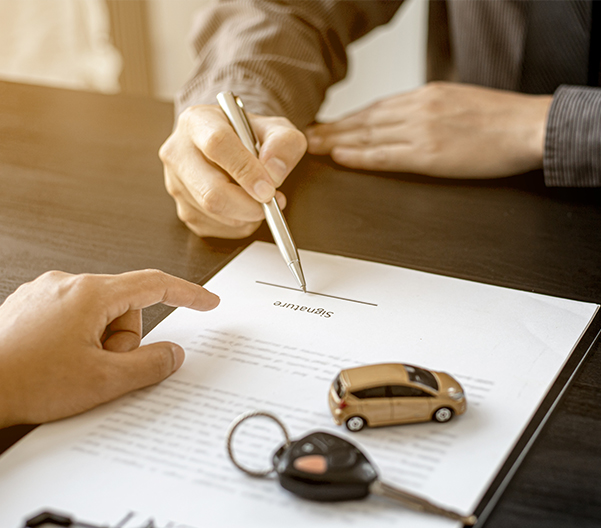 VW Financing FAQs
01

How much of a Down Payment do I need to finance a car?

While there is no specific requirement for a down payment, it can be beneficial in many situations. A down payment can lower the overall cost of car ownership by reducing the amount of interest you pay on the loan and helping to achieve a lower monthly payment on your new VW. Many banks prefer to see an initial investment upfront, which can often lead to a better finance program for the consumer.
02

What additional costs will I be responsible for when buying a new car?

When purchasing a new car, you may be responsible for sales tax, registration and licensing fees. Sales tax rates vary by state and can range from 0% to over 10% of the purchase price. Registration and licensing fees are paid to your state's Department of Motor Vehicles and cover the cost of license plates and other paperwork.
03

How can I find the value of my trade-in?

To determine the value of your trade-in, it's a good idea to research both the vehicle you're purchasing and the one you plan to trade. Online tools such as KBB, Edmunds and TrueCar can provide an estimate of your vehicle's worth, but keep in mind that these are only guides.

The true value of your vehicle may differ based on your local market, the condition of the car and its availability. Dealerships can offer the most accurate valuation by considering these local factors. We also offer an online trade-in calculator tool, and even do in-person trade-in appraisals right here at our showroom.
04

Does my credit score impact my loan rate?

Yes, your credit score can significantly impact the loan rate you're offered when applying for a car loan. Lenders use credit scores to assess the risk of lending money to borrowers, with a higher score indicating a lower risk of defaulting on the loan.

A high credit score may qualify you for the most favorable loan rates, potentially saving you thousands in interest payments over the life of the loan. If you have a lower credit score, we still have banks to fit your needs with favorable programs for our customers.
05

I have a low credit score; can I still finance a car?

Yes, many banks work with all types of credit situations. Once we have evaluated your credit situation -- which we'll do after you apply for VW financing -- we can determine the most beneficial program for you based on the selected vehicle. Our lenders understand that life happens, and we have positioned ourselves to extend the most competitive financing for everyone.
06

I don't have a credit history yet; can I still finance a car?

While most banks do require credit history, there are special programs available for those with no credit, including first-time car buyer opportunities. It's always best to ask what programs are available and what you would need to qualify.
07

Can you offer a better interest rate than my pre-approved rate?

As a trusted name in the San Antonio area for over 44 years, we have forged relationships with over 30 different lending institutions, from major banks to smaller credit unions.

If the rate is the most important factor in your vehicle purchase, our VW finance team will do a credit review to determine which lender would best compete with your pre-approval. We have never lost a sale over an interest rate!
08

Can I reduce my monthly car payments down the road?

At any time during ownership, you can pay off a loan, trade in, or refinance your vehicle. The easiest way to lower the payment on your current car is by securing a loan for the outstanding balance at a lower interest rate or a longer term, a strategy known as refinancing.

Another option is to assess your vehicle's equity situation and potentially trade it in for a new car, financing the difference between the new car's purchase price and your trade-in amount with a more favorable loan. Either scenario can be explored at our nearby VW dealership!
09

Can I sell my car while I'm still paying it off?

All loans are simple interest loans with no early payoff penalties. At any point during ownership, you can pay off your vehicle in full or trade it in. Any positive equity will be due back to the customer, and any negative equity must be handled at the time of sale with the original lienholder to ensure the new purchaser can receive the title.
10

Can I add a warranty when I buy a car?

It's a great idea to add a Vehicle Service Contract (VSC) when purchasing either a new or pre-owned vehicle. These policies can help ensure you don't have to pay large out-of-pocket service bills in the event of any electrical or mechanical failure on your vehicle for an extended period of time. VSCs go above and beyond the manufacturer coverage and ensure a great ownership experience.
11

Can I trade out of my lease?

There are multiple options for consumers at the end of and even during their lease, with one popular option being trading the vehicle in. Leasing is often suggested as it allows you to get in and out of vehicles more frequently as your lifestyle changes or to take advantage of newly introduced technology.
12

Can I add a service and maintenance package?

We strive to provide every customer with an exceptional experience, not only at the time of purchase but during their ownership as well. We have developed a comprehensive finance program, and one of our Business Managers would be happy to explain the benefits to you.
13

What, why and how is leasing done?

Leasing a vehicle is simple and offers many benefits, including tax savings, lower payments, free GAP coverage and the option to drive a new vehicle under factory warranty. No down payment is required, and you can choose your mileage plan. Leasing provides another choice for driving your dream vehicle for less.
We hope this FAQ has answered some of your questions and provided valuable information for your car buying journey. If you have any further questions, please don't hesitate to contact North Park Volkswagen. We're here to help you every step of the way!